Posted by TD on 13th Jul 2022
The Lightning stands as the best out the front automatic value knife out there.
The Lightning has been around for many years and has proven itself through the test of time. Made in Taiwan, these OTF knives feature quick action, tight lockup, and durable construction.
Let's discuss these items one by one.
Action:
A true double-action out the front opens and closes with the same sliding switch. You slide it up and the blade comes out and locks into the open position. When you are ready to put it away, you slide the switch down and the blade retracts and the knife is ready to be pocket-carried.
Watch this quick video to see how the lightning works in real life.
Lock Up:
In the same video, you get a glimpse of the lock up. When any OTF knife opens, one of the tests of quality is how "tight" the blade locks up. High end OTF knives that cost hundreds of dollars features extremely tight lock up. You can test for this by opening the knife and then trying to move the blade from side to side and up and down. If the blade wiggles a lot, it is called blade play. Lot's of blade play is not good. It means when you go to cut things, the blade moves and isn't quite as reliable for cuts. While nearly every OTF will have a little bit of movement, the tighter they are, the better they are generally considered to be.
The Lightning OTF features very tight lock up.
Durable Construction:

About five years ago, over a period of several months, I became friends with the guy who managed the gas station convenience store across the street from our store. One day, I gave him a lightning. He was super excited. He said that he opens dozens of boxes every day and had been looking for a reliable knife. Over the next two years, from time to time, he would mention how much he loves his Lightning knife. After two years, he asked me to give his knife a quick "spa" day tune up.
I took it over to the shop. First I used the shop compressor to blow compressed air into the opening. This is a quick and easy way to clean out any loose debris that might have built up in the knife. Then I sharpened the blade. It was still relatively sharp, but it did need a quick tune up. Finally, I put one drop of knife oil into the knife and opened and closed the blade several times to get the oil worked through the components. I took it back to him and he was delighted. The knife was as good as new.
These knives stand the test of time. They work day in and day out with minimal fuss.
Here is a great video that shows how tough these knives are.
Off the Rails:

An out the front knife will typically run on "rails". They are built to pop off these rails if you fire the blade into something solid. So, like nearly every first-time OTF buyer quickly realizes, you cannot use these knives to fire the blade through something. That isn't their strength. If you try it--and I advise you not to because even though it won't go through whatever you are firing it into, it will cut or mar the surface--the blade will pop off the rails.
As a note, a single action OTF knife will fire deeper into things and can cause serious harm. NEVER fire an OTF knife near someone or at someone. It can and will cause harm.
As an aside, I once had a kid in our shop who was about 17. He put it up to his hand and fired it--even though we told him not to. He ended up with a cut about 1/4" deep in the middle of his palm. Not clever.
Anyways, once you pop your OTF knife blade off the rails, it is easy to fix, just follow these steps.
Grab the knife in one hand.
The blade will be floppy, meaning it slides in and out and doesn't lock up.
Gently grab the blade between two fingers and pull it out.
Keep pulling it until you feel it lock into place. This will be a bit farther out than it normally fires on it's own.
Once the blade locks into place, it is ready to use again.
Enjoy your OTF--and quit trying to fire it into things.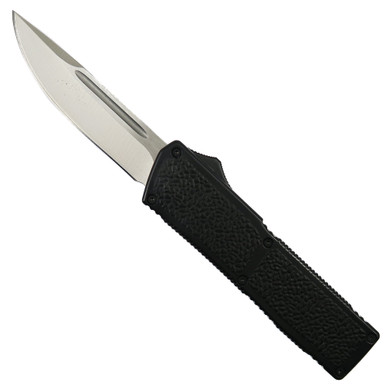 SPECIFICATIONS:
Blade Length: 3.325"
Overall Length: 8.0"
Closed: 4.625"
Blade Style: Drop Point
Blade Finish: Satin
Handle Material: Aluminum
Weight: 4.00 oz.
If you are looking for a reliable, durable, OTF auto knife, the Lightning is a great choice. You can find many different color and blade style choices of Lightning OTF knives right here.